M'Rock Fest le samedi 03 septembre au Moulin de Pontcey (70)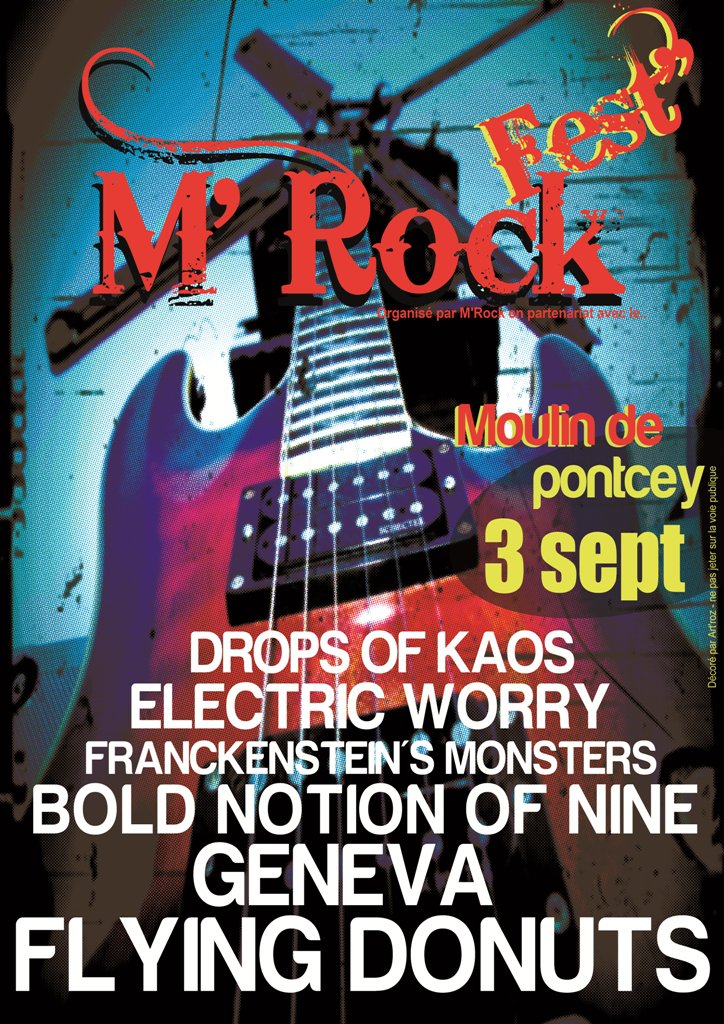 Concert organisé par l'Assoc Aim'Rock en collaboration avec l'assoc Au Coin de l'Oreille…
La scène du Méline Rock prend une pause pour l'année 2011 et se déporte au Moulin de Pontcey. La soirée est donc rebaptisé pour l'occaz M'rock Fest et accueille 6 groupes qui devrait envoyé du bois !
L'éthique reste la même: petit prix (5€ en prévente et 8€ sur place) avec buvette, restauration sur place ainsi qu'un espace fumeur aménagé !
Ouverture des portes à 18 Heures, début des hostilités à 18 H 30 avec (dans l'ordre de passage):
Electric Worry (Stoner de Vesoul/Besançon)
Drops Of Kaos (Electro Indus de Vesoul)
Frankenstein's Monsters (Punk Rock de Vesoul)
Bold Notion of Nine (Shoegaze de Besançon)
Geneva (Noise Postcore de Lyon)
Flying Donuts (Wild Punk de Epinal)
On compte sur vous pour faire tourner l'info !
EDIT: Photos du M'Rock Fest